Ultimate Marine Adventure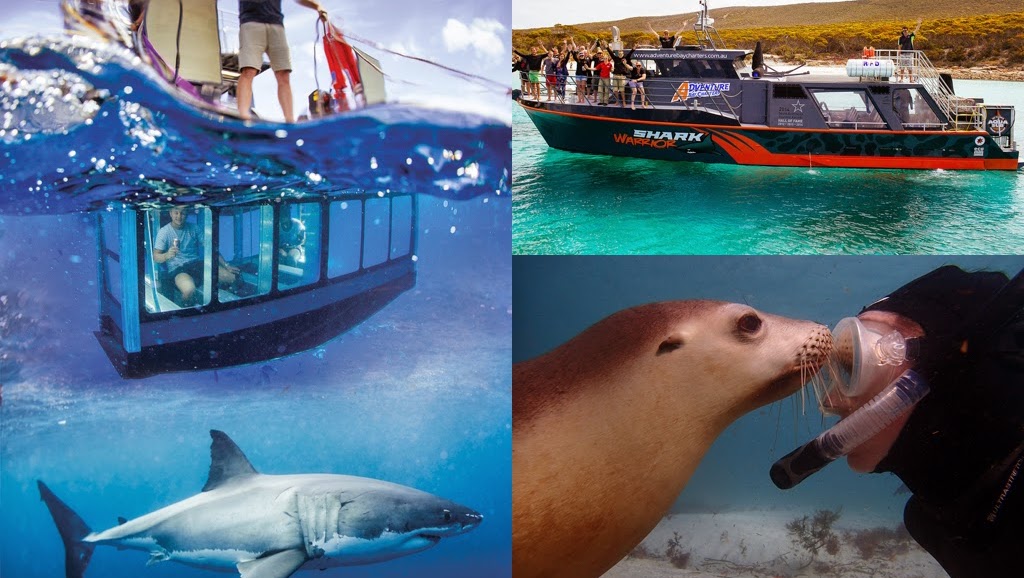 Duration: 2 Days (approx.)
Location: Port Lincoln, SA
Product code: UMA
Ultimate Marine Adventure
This is a unique package opportunity to enjoy all of our exciting day tours over two days at a discounted price!
Our Great White Shark tour is a full day tour and will require accommodation the night before and the night after the dive (accommodation not included).
With this in mind there is the opportunity to join our other tour whilst in Port Lincoln. Our sea lion tours run in the mornings on alternate days to the shark tour giving you the ultimate 2-day adventure!
Please note the below itinerary can be run in reverse.
Day 1: Cage Dive with Great White Sharks
Make your way to the Port Lincoln Marina, for a trip by boat and the chance to see the legendary Great White Shark in its natural habitat.
This is a full-day cruise on the water to visit Neptune Islands in South Australia, home of the great white shark. On the way you will enjoy the spectacular scenery as you cruise through the Thorny Passage where you can expect sightings of dolphins and local sea birds.
When the sharks arrive, you can choose to take a splash and get into the cage to actually swim with these endangered animals. We are also proud to introduce to you the world's first Shark "Aqua Sub". A revolutionary new way to view Great White Sharks in their natural habitat. A glass viewing area with 360 degree views underwater. View the Sharks while staying completely dry!
**An underwater access fee of $175 is payable onboard to enter the Cage**
This is the only berley-free eco-friendly great white shark cage diving experience in Australia.
A light breakfast will be served on board as well as morning tea and lunch. Tea and coffee is available all day. On arrival at the Marina you will make your way back to your accommodation. Snacks, alcohol & merchandise available for purchase on board.
Day 2: Swim With the Sea Lions
Departing at 8am you set off by boat for an unforgettable underwater adventure swimming with sea lions.
These fascinating puppy dogs of the sea will welcome you to the crystal clear waters of Seal Cove. Watch them as they bound out to the boat with excitement to begin their awaited performance.
Somersaults, back flips, and graceful swirls will fascinate and amaze you! Join the Australian sea lion and become part of their underwater playground.
You Need to Bring:
Hat, sunscreen, water bottle, towel, bathers, toiletries, camera, Sunglasses. A warm jacket of jumper or wind breaker as it can get cool on the water even in summer and a sense of fun and adventure.
We Supply:
All meals where stated, comfortable modern vessels for transport to location of activities, fun and experienced tour guides, masks, wetsuits and fins where required
Special Conditions:
This offer is not available from June through to the end of August each year as some tours do not operate during these months.
CANCELLATION POLICY
Tours will be cancelled if the weather is
unsuitable. Adventure Bay Charters reserves the right to offer an alternate
date if the trip is cancelled by us or will offer a full refund on a case-by-case
basis. Bookings are not confirmed until the payment is received from the
customer (customer – participant on the tour) Cancellation policy applies to
all clients (client – the person who books and confirms the booking with
Adventure Bay Charters)
·
No refund will be provided for cancellations made less than 48 hours
in advance, or in case of no show.
·
A cancellation fee of 20% applies for cancellations made less than
14 days in advance.
·
A cancellation fee of 10% applies for cancellations made more than
14 days in advance.
SHARK SIGHTING POLICY
All customers have the
right and responsibility to call us prior to their tour for up to date shark
sightings. In the event of sustained periods of no sightings, tours can be
deferred to a later date. Existing cancellation and admin fees still apply.